Even when not being played, the Golden Tee game will be the centerpiece of any basement or man cave.
But it's not until you dive into the game modes and features of the Golden Tee Home Edition that the sheer magnitude of options and excellence come into focus.
Welcome to a glorious online world.
---
60 Magnificent, Unique, Imaginative Courses
Travel the globe. Play in the shadow of the Eiffel Tower or at the top of Mount Everest. Explore a winery in Italy or journey to Africa for an 18-hole safari. Touchdown in Ireland and enjoy true links golf; then jet to Hawaii to immerse yourself in paradise.
You have 60—yes, 60—18-hole virtual golf courses at your fingertips. This includes the five new Golden Tee 2017 creations, which might be our most ambitious yet.
Watch the Golden Tee 2017 course trailers here.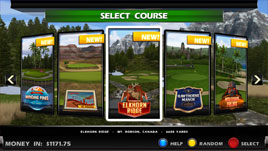 ---
Online Tournament/Stat Tracking
By swiping in with a Player Card or using the keypad—an optional add-on—you can track your Golden Tee progress. Don't just play the game. Play your game.
The greatest games you ever played won't be just another bar story. You'll have the stats to prove it.
That's not all. Anytime you wish to compete with players around North America, you can. Online Contests are 20-player events—the ultimate way to play for bragging rights—are always open.
Want to just learn the courses and work on your game? Stats Play is the perfect option. Improve your average, establish a Golden Tee World Ranking and unlock virtual clothing. The online world is at your fingertips.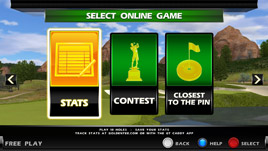 ---
Player Invitationals
Oh, the game has changed. Not only can you compete in online tournaments, but you can create your own private contests.
Pick the players—between two and 10—select the course, the stakes (yes, you can play for money if your state allows) and control everything about this specific content. Play your buddy in Albuquerque from the comfort of your man cave. Connect and compete against other users who don't own a GT Home Edition.
You can create it all on the GT Caddy, our mobile app available for the Apple and Android device.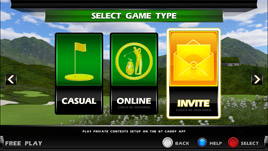 ---
Closest-to-the-Pin
Drop the putter. Ditch the wedge.
The name of this particular game mode says it all: get as close to the pin as you possibly can. Better yet, drop one (or more) of your nine shots in the bottom of the cup.
The PERFECT game mode for parties or players in search of a fun, quick fix. Closest-to-the-Pin is available casually and online. You have nine chances to tuck it close to the cup; may the best shot win.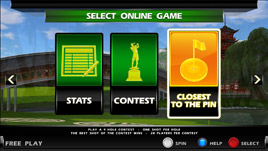 ---
Other Exclusive Game Modes
Not one, but TWO game modes return to the Golden Tee Home Edition. You won't find them anywhere else.
King of the Hill: Be the best under your own roof! Your best casual games on the new courses will be stored. Not only will you be able to compete against these games; you'll also be able to see how each shot was made and how the round unfolded!
Skins: Every hole matters, although those pesky blowup situations won't derail your round. Play your buddies for bragging rights, and do so one hole at a time. It's not about total score; it's about winning as many of the 18 holes as you possibly can!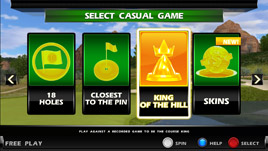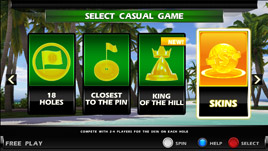 ---
Full Player Customization
You have complete control. Not just with the modes you choose to play and how you play them, but also the look, feel and style of your golfer.
Build your own club set and golf ball. Outfit your golfer in the wackiest outfits imaginable. Or play it cool if you like.
No matter how you decide to look and play, it's completely up to you. Get your character just the way you like him/her, and then enjoy everything your Home Edition has to offer.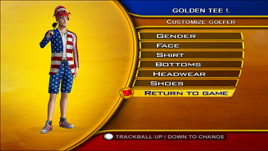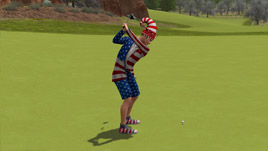 ---
YouTube™ Golden Tee Great Shots
You just hit the once-in-a-lifetime shot. Now what?
Upload it to YouTube™, of course. Then, share it with the world!
Celebrate the shots that truly matter when they happen and share them with friends, family and complete strangers (whether they like it or not). Golden Tee Great Shots have come to the home, and now your finest trackball efforts can be saved, uploaded and shared.
If you're at least 100 yards out and your shot finds the bottom of the cup, you'll be prompted to upload this shot by providing an email. Follow the easy steps, and your GT moment will be up on YouTube™ in no time—free of charge.

---